GALE'S GAS BARS LIMITED, SINCE 1967
Gales Gas Bar - Gas Stations & Wholesale & Home Heating Fuel Delivery Niagara
In 1955 Bob Gale Sr started out working as a home heating oil agent for Champion Fuels out of St. Catharines. He serviced the region from Niagara on the Lake, Niagara Falls and through to Fort Erie. In 1967 Bob Sr. purchased property at the corner of Thorold Stone Rd and Montrose Rd in Niagara Falls for the primary purpose of being able to easily wash his delivery trucks. The property had an existing Sunoco gas station, which when changed to the first Gale's Gas Bar proved to do very well and lead to the expansion of service stations in St. Catharines, Niagara on the Lake, Niagara Falls, and Fort Erie.
Throughout the 1970's Bob Gale Jr (who had always worked within the family company) was a police officer for the Niagara Regional Police, and worked on the side driving trucks and at the service stations for his father. In 1980 Bob made the decision to join Gale's full time and through his work the company expanded into trucking and more retail locations. In 1999 Gale's expanded again and built a fuel terminal at the head office with underground storage and loading racks for our fleet of trucks.
Continuing to expand in 2009 Gale's purchased two gas bars with convenience stores in St. Catharines and Thorold. At this time Bob Jr's daughter, Jessica (a registered nurse, also raised in the family business), made the decision to join Gale's full time heading up the new division of convenience stores "Bob's Fast & Fresh".
We are now proud to have a fleet of petroleum trucks, sixteen gas stations, carwashes and four convenience stores – with plans for further expansion in the near future!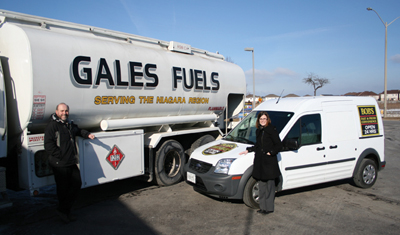 GALES GAS BAR
GALES GAS BAR – GAS STATIONS & WHOLESALE & HOME HEATING FUEL