GALE'S GAS BARS LIMITED, SINCE 1967
Gales Gas Bar - Gas Stations & Wholesale & Home Heating Fuel Delivery Niagara
One of the last true independent petroleum companies Gale's Gas Bars Limited has been serving Niagara residents for over fifty years. A family company, Gale's began with Bob Gale Senior's purchase of one truck and one gas station in 1967.
In the early 1980's Bob Gale Junior became the second generation owner/operator, steering the company through the 1980's, 1990's, and early 2000's. During this time Bob expanded the company further – building an oil terminal, growing the number of service stations and geographic reach of fuel delivery, and venturing into the convenience industry, opening the very first Bob's Fast & Fresh Convenience in 2009.
The expansion into convenience coincided with the re-entry of Bob's daughter, Jessica (Gale) Friesen, back into the family business. Jessica has since become third generation owner/operator of Gale's Gas Bars Limited.
2017 marked Gale's fiftieth year in business. We are now proud to operate fifteen gas station locations (both full serve and self serve), four that also offer Bob's Fast & Fresh Convenience, as well as six fuel delivery trucks. Our newest endeavour is into the Oil & Lubricant Industry.
Being locally owned and operated for three generations, Gale's is proud to support the Region of Niagara. Bob Jr and Jessica both volunteer countless hours to local organizations, and donate gifts to many organizations throughout Niagara. Bob and Jessica both believe that giving back to the community isn't the just the nice thing to do – it is the right thing to do.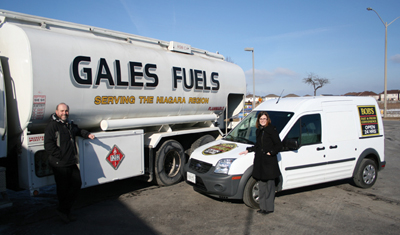 GALES GAS BAR
GALES GAS BAR – GAS STATIONS & WHOLESALE & HOME HEATING FUEL